hot sell portable hydraulic jet grouting drilling machine
Product Description
China hot sell portable hydraulic drilling rig jet grouting drilling machine for sale
Track Jet Grouting Ground Anchor Drilling Machine for sale in Africa,Middle-east,Russia,Japan,Korea

1, the shell: the installation of the shell shape makes the machine more scientific, but also protect the key hydraulic parts from pollution.
2, Outriggers: Not only to allow the cylinder from damage, but also enhance the support strength.
3, console: split console, make the operation more simple, to avoid misuse.
4, Track: longer and stronger track, effectively prevent sagging, to adapt to a wider range of strata.
5,( 58586618, 58586537, 58586484,optional) Lifting: Adjustable orifice height, no longer depends on the level of the face.
6,( 58586619, 58586538, 58586485,optional) Automatic turntable: eliminating manual labor, easier and more convenient.
7, through-hole high pressure faucet: the necessary equipment to expand the head construction.
8, Power head: The drilling machine gyrator is driven by a double hydraulic motor, with big output torque and lower swing center than similar products, which greatly improves the balance of drilling rig drilling. Expansion joints configured to greatly extend the drill pipe thread life.
9, cooling system: According to the customer's special conditions, the cooling system is optimized to ensure that the hydraulic system when the outdoor temperature is 45 ℃, the maximum temperature does not exceed 70 ℃.
1, optional with the special drill pipe drilling tools (drill pipe, casing, eccentric drill, etc.), in the unstable formation casing wall openings, the conventional ball-bit drill hole. High drilling efficiency, good hole quality.
2, the drilling rig is mainly suitable for deep foundation pit anchor support, but also through the rotary spray module replacement, so that drilling rig can be rotary jet spray construction. In addition, the machine also has a strong performance in the construction of geothermal holes, precipitation wells, micro-steel pipe piles and micro-pouring pile.
3, In addition to crawler chassis crawler, gripping and unloading buckle and turntable, we also provide users with spin-jet module and other options, the user when ordering rig overlay matching, so that our rig more suitable for your project.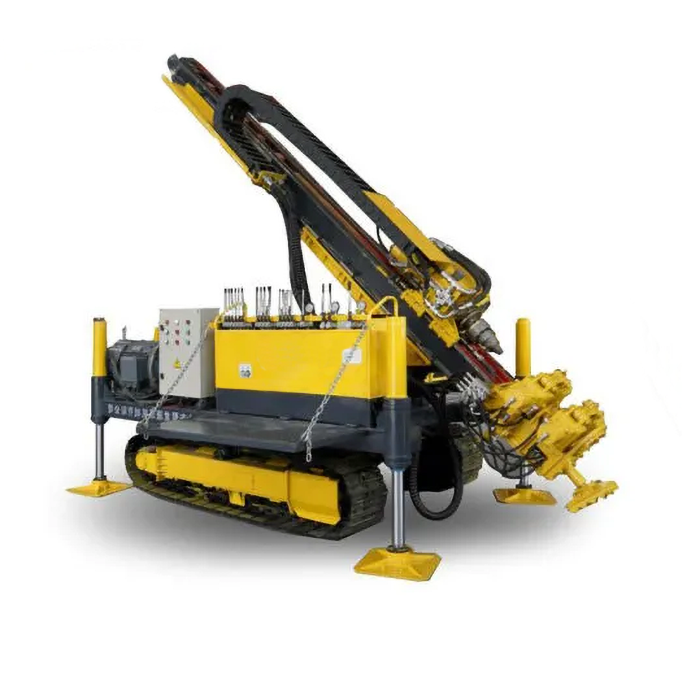 Technical Parameter of 3 Models Drilling Machine

| | | | |
| --- | --- | --- | --- |
| Model | YKDL-80 | YKDL-150 | YKDL-200 |
| Hole diameter(mm) | φ100-210 | φ150-250 | φ150-250 |
| Hole depth(m) | 60-100 | 130-170 | 180-220 |
| Rod diameter(mm) | 73/89/102/114 | 73/89/102/114 | 73/89/102/114 |
| Hole angle(°) | 0-90 | 0-90 | 0-90 |
| Output rotary speed(r/min) | 16-105 | 10-170 | 40-170 |
| Power head output torque(N.m) | 4200 | 7500 | 11000 |
| Stroke of slide frame(mm) | 1800 | 3400 | 3400 |
| Lifting force of power head(KN) | 65 | 70 | 80 |
| Feeding force of power head(KN) | 33 | 36 | 40 |
| Moving speed(km/h) | 15 | 20 | 22 |
| Input power(kw) | 39 | 96 | 96 |
| Dimension(mm) | 3000*1800*1500 | 5400*2100*2000 | 6200*2100*2000 |
| Weight(kg) | 3200 | 6500 | 9200 |
Main Features:
1. Full hydraulically driven, easy-operation, flexible, easy-shifting, good maneuverability, time- and effort-saving.
2.The rig gyrator is driven by a double hydraulic motor and has a large output torque, which greatly improves the drilling stability of the rig.
3. The new variable angle mechanism makes the hole more convenient and the adjustment range becomes larger, which can reduce the requirement on the working face.
4. Equipped with a special heel drilling tool (drill pipe, sleeve, eccentric drill bit, etc.), with a casing wall opening in an unstable formation, a conventional ball tooth bit hole.
5. The drilling rig is composed of three parts: main engine, hydraulic station and operation console. It has good detachability and is easy to change. The main mast can be directly connected with the hydraulic station, and the structure is simple. The hydraulic station frame is equipped with rollers for easy movement and relocation.
24 hours quotation, custom-made parts, processing flow design & optimization, one year warranty, on-site installation service. Contact us by Email or Whatsapp# +86 13298164330 at any time!

Our business scopes as below:
Jumbo Underground Drill Rig
DTH Drilling Rig
Anchor Drilling Rig
Jet Grouting Rig
Water Well Drilling Rig
Pile Drilling Rig
Percussion Drilling Rig
Horizontal Directional Drilling Rig
Core Drilling Rig
Rotary Drilling Rig
Ore Processing Equipment
Oil And Gas Drilling Rig
Air Compressor
Mud pump
Drilling Components Accessories
Contact us if you need more details on Portable Hydraulic Drilling Rig. We are ready to answer your questions on packaging, logistics, certification or any other aspects about Portable Hydraulic Jet Grouting Drilling Machine、Track Jet Grouting Ground Anchor DrillingMachine. If these products fail to match your need, please contact us and we would like to provide relevant information.
Product Categories : Jet Grouting Rig > HJGP Jet Grouting Rig